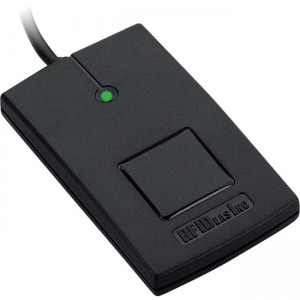 Introducing the quickest and easiest way to track time – the TimeMD QuickClock. Simply plug the QuickClock device into any available USB port on either your PC or Mac. Your employees then wave their ID card over the device and their punch is automatically recorded.
Compatibility
No software to deploy or install. Simply take it out of the box and plug it in to virtually any computer with an open USB port. A true plug-n-play solution.
Compatible with Windows CE®, Windows 2000®, Windows XP®, Windows Vista®, Windows 7®, Macintosh®, Solaris™, Sun Ray™ as well as Linux operating systems.
Versatile Mounting Options
The standard housing (shown here) can be placed anywhere on the desktop. Features an articulated cable it can easily be mounted on kiosks, monitors and more. Optional base and mounting brackets expand placement options.
Meets medical/healthcare HIPAA requirements.
Supported Proximity Cards
Because the device can read virtually all types of proximity cards, you should be able to leverage your existing card system. Below is a partial list of supported proximity cards:
AWID
Casi-Rusco®
EM410X/Rosslare
HID®
Honeywell Nexwatch
Indala® Custom
Indala® 26 bit
Kantech ioProx™
If your existing card type is not listed above, please contact us and we can confirm whether or not they are compatible. If you don't have proximity cards, we're happy to sell you some at a very low cost.
Pricing
Pick up yours today for only $249.
Please call (888)631-8463 or email us for ordering options.